Seige&Sobos réunies



J'ai travaillé chez SEIGE&SOBOS de janvier 1972 à fin 1973 / I was in Seige&Sobos from 01/01/1972 to 31/12/1973
Vers le début des années 70, la situation économique dans le Nord n'était pas brillante et mon avenir plutôt compromis! Je me décidais donc à changer de région, et tant qu'à faire, pourquoi pas dans le sud! Marseille était en pleine effervescence avec la mise en construction du site de Fos sur mer par la SOLLAC. A cette époque la SEIGE&SOBOS venait de s'installer dans des locaux tout neufs au boulevard du capitaine Geze. Née de la réunion de deux sociétés, (la Ste SEIGE et la Sté SOBOS spécialisées l'une dans la réparation électrique l'autre dans la serrurerie et chaudronnerie et principalement orientées sur la réparation navale) la SEIGE telle qu'on l'appelait avait décidé d'élargir son champ d'activités au secteur industriel .
In the beginning of 70 decenny, the economical situation in the north of France was not very exciting and I decided to emigrate in the south : Marseille ! near the new metallurgic site of Sollac "Fos sur mer". Seige&Sobos was an électrical repair compagny which had grew thank's to naval repare, and at that time wanted to diversifie it's activities; for that reason they hired me. The main customers were SNCF(the french railway Cie) and the "Messageries maritimes" (Naval transportation company).
---
---
En Octobre 1971 mon premier contact avec Marseille, je me souviens de mon arrivée en gare St Charles sous un soleil magnifique, direction la Canebière puis un petit café sur le vieux port avant de prendre un taxi pour "capitaine Geze". Je fais connaissance de mes futurs collègues et : "vous êtes spécialiste en alternateurs, ça tombe bien, nous avons un problème à Fos sur un 125 KVA". Et nous voila partis direction Martigues, Port de Bouc puis Fos (A cette époque le pont de Caronte n'existait pas encore). Nous avons déjeuné à Arles ou nous attendait un autre client et nous sommes ensuite rentrés par l'autoroute nord déjà saturé! Je vous laisse imaginer l'impression d'une telle journée sur un "schti" juste sorti des brumes du Nord! Je ne savais plus si j'étais en vacances ou si je travaillais!
Je suis retourné à Tourcoing pour terminer mon préavis, et le 2 janvier 1972 j'étais devenu marseillais!
October 1971 my first meeting with Marseille, I remember that when I arrived in St Charles station, it was a marvellous sunny automn morning. I moved to Canebière avenue and reached "le vieux port" to drink a coffee; and jump in a taxy-car to "Seige&Sobos Cie". I meet my fellow worker, and immediatly: "You ar an alternator specialist you've come at the right moment; we have a problem with a 125 kva generating set in "Fos sur mer" site" And it was a trip in Provence: Martigues, Port de Bouc, Fos, Arles where we had a lunch and a second generating set problem to resolve.... After we came back to Marseille. The north motorway as already full of cars, like at that time ! But in fact I let you imagine what such a day was for a french yankee, regular customer of North foggy days !
I return in Tourcoing to finish my time, and on January 1972 I became a person from Marseille !
---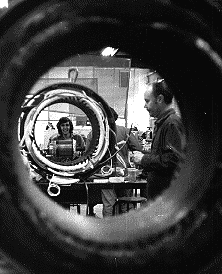 Sur cette photo la section bobinage de l'atelier de réparation. / The repair workshop, on this picture the rewinding department.
---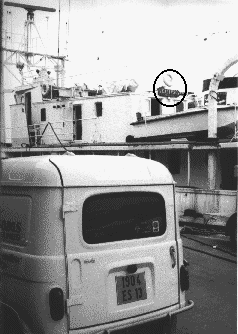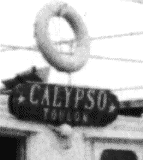 En 1973 je montais à bord de la "Calypso" au mouillage à l'Estaque, pour traiter un problème de régulation de tension sur le générateur. Au premier plan le véhicule d'intervention.
In 1973 I had the opportunity to go on board of the Cdt Cousteau's "Calypso" which was in Marseille "Estaque", they had a problem of voltage regulator with the generating set. On the picture's front you can see the "Seige's car"
---
Member of UK HyperBanner
Membre de France HyperBanner
---
LinkExchange Member
---
Last revised / Dernière mise à jour : 22 Dec 1999
---
---